Building Homes for Heroes® News
Sikorsky Aircraft Corporation Volunteers at Caron Home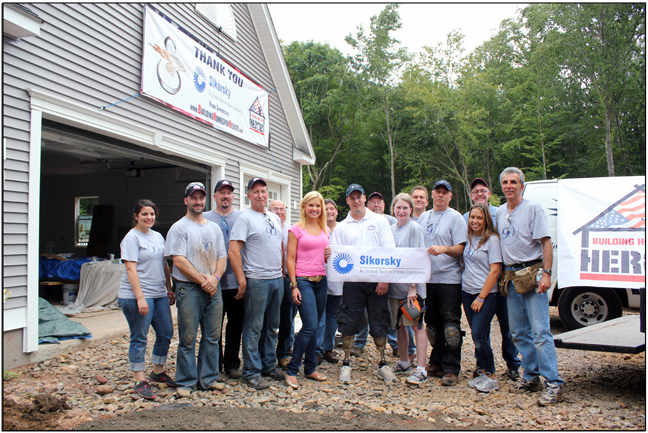 On Wednesday, August 21, 2013, a team of 20 volunteers from Sikorsky Aircraft Corporation headquarters carried out a Employee Volunteer Day, spending the day making a major contribution to the home for USMC Sergeant Greg Caron in Ellington, Connecticut.
The team, which included two representatives from Sikorky's location in Mielec, Poland, was led by Bob Araujo, Manager for Sustainable Development and Environment, Health & Safety, and Dave Eherts, vice president of Environment, Health & Safety and Chief Safety Officer.
Among the tasks carried out by the team were closet, door, and window framing, painting, deck installation, and electrical work. The event was covered by Fox News and NBC 10.
One of the highlights of the day was a flyover by a Black Hawk helicopter manufactured by Sikorsky. Building Homes for Heroes® would like to thank all of the volunteers from Sikorsky for their contribution to the Caron home.