Building Homes for Heroes® News
More than 1,000 celebrate Joel Tavera's homecoming!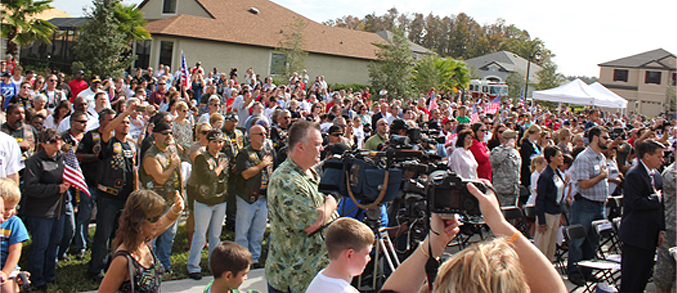 Before an exuberant, patriotic crowd of nearly 1,000 supporters, Building Homes for Heroes welcomed home Army Sergeant Joel Tavera and family to their spectacular new home in Tampa, Florida on Saturday, November 19.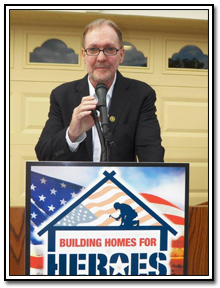 The event, which attracted high-ranking military personnel, including Army General Peter Chiarelli, Navy Admiral William McRaven, Army Major General Robert Abrams, Air Force Major General (Ret.) David Scott, Army Brigadier General Darryl Williams, Air Force Brigadier General Chip Diehl, and Gary Littrell (Congressional Medal of Honor recipient - US Army), all of whom attended specifically to pay tribute to Joel's extraordinary bravery, began with a magnificent procession along the flag-lined streets of New Tampa that stepped off from the James A. Haley Medical Center, proceeded through Lutz, and into the Grand Hampton development.
There were also many local dignitaries, firefighters, community members, corporate sponsors, civic organizations, and friends and family in attendance.
Master of Ceremonies Kelly Hallman opened the program with an inspirational speech before handing the microphone over to Staff Sergeant Kenneth Dansby for a stirring rendition of the Star Spangled Banner.
Army Chaplain (Major) Eugene Mack then conducted an invocation and blessed the home. Next up was Building Homes for Heroes president Andy Pujol who addressed the audience, thanking all of the distinguished guests, volunteers, builders, sponsors, and members of the community for making a significant difference in Joel's life. Army Major General Robert Abrams, Commanding General of the 3rd Infantry Division, talked about Joel's undying spirit, remarkable perseverance, and will to survive. William Ryan Homes regional president Jeff Thorson, whose organization built Joel's home, welcomed Joel home and thanked all for coming out.
Finally, the guest of honor, Army Sgt. Joel Tavera addressed the audience. Joel brought the enthusiastic crowd down by expressing how happy he is to be alive, encouraged all neighbors to come by and see him, and thanked all of those who have made a difference in his life. Before the family crossed the threshold of their new home for the first time, FBI Special Agent Steven E. Ibison made a touching speech and presented Joel with a plaque that recognized his courage and honor.
---
SPECIAL THANKS TO

and