Building Homes for Heroes® News
Evanchik Family Golf Outing Reaches New Record
Sold-Out 8th Annual New Jersey Golf Outing Raises Record-Breaking $102,000.00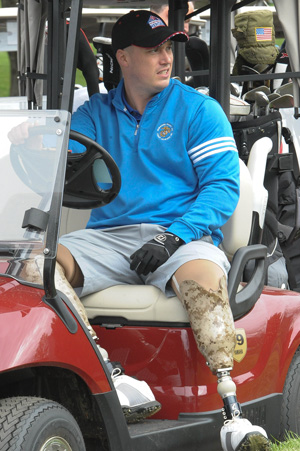 Consider this: there are over 1,000,000 golf events in this country every year and the average golf outing raises $5,000. Yet thanks to the many months of dedicated work from Jason Evanchik of PVH Corp and his family, the Building Homes for Heroes® 8th Annual New Jersey golf outing raised an incredible $102,000.00 to support the building of homes for severely-wounded men and women in the military. That's a record- breaking amount – the most successful of any of our golf outings ever!
Our eagerly anticipated yearly event was held on April 27, 2015 at the Forsgate Country Club in Monroe Township, NJ, with 36 challenging holes on two distinctly different championship courses. Four of our valiant veteran heroes were in attendance:
U.S. Army Specialist Hugo Gonzalez: His home will be gifted in October 2015.
U.S. Army Sargent Joel Tavera: Received a home in Tampa, Florida.
USMC Sargent Greg Caron: Received a home in Ellington, Connecticut. 
USMC Gunnery Sargent Christopher Claude from Long Pond, PA: His home will be gifted in 2016.
Impressively, Building Homes for Heroes® anticipates gifting 33 mortgage-free homes throughout the country in 2015 to help our badly injured veterans fully participate in the American dream of homeownership. As a result of the expert leadership of Jason Evanchik, the love of his family, the support of a compassionate team within PVH (the golf outings largest donor) and the participation of our many supporters, our vision is rapidly becoming a reality.
NEW HOME RECIPIENT ANNOUNCEMENT