Building Homes for Heroes®
USMC Sergeant Greg Caron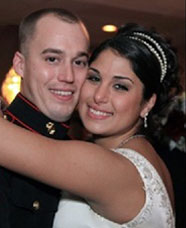 On November 12, 2011, USMC Sergeant Greg Caron was on patrol in the Southern Marjah area of Afghanistan searching known Taliban compounds. Sergeant Caron was severely wounded when an IED exploded. He lost both legs, immediately, and received a critical wound to the brachial artery of his right arm. Sergeant Caron was evacuated to Camp Dwyer where his situation turned for the worse. Once arriving at Dwyer, Sergeant Caron became unstable due to blood loss. He underwent emergency surgery to stabilize him, and to attempt to save his right arm.
Throughout the night, Caron received multiple units of blood, as the doctors did their best to stabilize him enough to enable him to be transported to a higher echelon of care at Bagram Airfield Hospital in Afghanistan. Once doctors felt he was stabilized, he was transported Bagram. While there, Sergeant Caron once again saw his condition worsen due to the extreme blood loss. Fortunately, doctors were once again able to stabilize him and he was moved to Germany. Thankfully, the medical team was able to do enough to save the right arm, but Caron still does not have full function of the arm, and he can not grasp anything with his right hand.
Sergeant Caron also lost the tip of his right middle finger, suffered shrapnel wounds to the right side of his body, and a broke his collarbone.  Caron and his wife Nina received a home, built from the ground up, in Ellington, Connecticut.
Additional Sponsors
| | | |
| --- | --- | --- |
| Aeschliman Land Surveying PC - Sandy Aeschliman | Bob Dawson and John Wilcox Russell & Dawson Architects | |
| | | Faeuteux & Sons Foundations |
| | | |
| | | Kauffman Brothers Construction |
| | New Shepard Supply Plumbing | North Central Health District |
| | Olender Corporation - Gary Cohen | |
| Rocky Mountain Wood Company | | Scott Monroe - RSM Cabinetry |
| Sean McVarish - Ellington Roofing | | Sylvain Fauteaux and Sons Foundations |
| The Barn Yard and Great Country Garages | The Sherwin Williams Company | Town Council and North Central Health District |
| Town of Ellington Building Department | Town of Ellington Town Council | |
| | | |
Groundbreaking Date:
Wednesday, September 5, 2012 - 3:30pm
Homecoming Date:
Saturday, September 28, 2013 - 10:00am