Building Homes for Heroes®
U.S. Marine Captain James Byler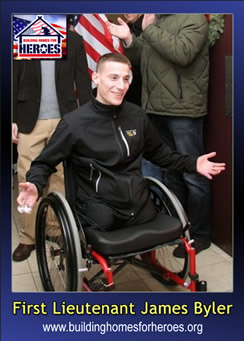 U.S. Marine First Lieutenant James Byler, an infantry platoon leader with the Third Battalion, 5th Marines, Camp Pendleton, California, was injured when he stepped on an improvised explosive device (IED). While leading his platoon on a dismounted patrol of a narrow alley in Northern Helmand Province, one of the deadliest provinces in Afghanistan, Captain Byler stepped backward on an IED that was buried in the dirt. He remained conscious until he was anesthetized in the Medevac chopper. The superior training his men received enabled them to stabilize him and save his life. Both of Byler's legs were amputated above the knee, and he lost both pinky fingers.
After being cared for in U.S. military hospitals in Afghanistan and Europe, Byler was transferred to the National Naval Medical Center at Bethesda, Maryland. First Lieutenant Byler, a graduate of Huntington High school and Purdue University, received a hero's welcome upon returning to his Huntington, Long Island home to spend Christmas with his family. He has been awarded a Purple Heart.
The 25-year old Byler was welcomed at Long Island MacArthur Airport by a Marine Corps Honor Guard, Suffolk County Executive Steve Levy, Legislator Jon Cooper, Huntington Town Councilman Mark Mayoka, and a large crowd of supporters. Also on hand were the Patriot Guard Riders, Blue Star Mothers of Long Island, firefighters, police officers, local veterans, the Huntington High School marching band, and Boy Scouts from Troop 78 (Byler earned Eagle Scout as a member of this troop). Local firefighters from Northport, Huntington Manor and Huntington Fire Departments proudly displayed American flags arched over the road in honor and recognition of Byler. Captain Byler was driven home in a limousine with a police escort., as a crowd of cheering Huntingtonians lined Horizon Drive.
Captain Byler's home in Huntington, Long Island underwent a complete modification.
Groundbreaking Date:
Saturday, March 31, 2012 - 1:30pm
Homecoming Date:
Saturday, September 15, 2012 - 1:30pm