Building Homes for Heroes®
Army Specialist Robert B.J. Jackson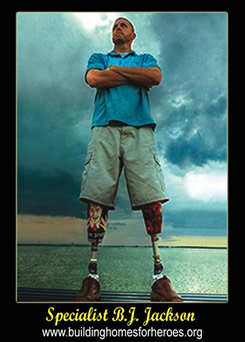 Army Specialist B.J. Jackson of the 186th Military Police Company was selected to be part of a team whose mission was to set up camp and headquarters for the entire unit's arrival in Iraq. On August 7, 2003, B.J. was driving a Humvee with other soldiers through Baghdad. The vehicle triggered a roadside bomb, and was immediately hit by a rocket propelled grenade. A thick, black smoke cloud billowed, and the soldiers were besieged by Iraqis firing AK-47s. B.J. was trapped in the burning wreckage.
Several hours lapsed as soldiers fought off the insurgents and worked to extract B.J. from his vehicle to transport him to safety. He was then airlifted to an Iraqi field hospital for immediate care, then to Kuwait, and finally to Germany for additional treatment.
After being stabilized, he arrived at the Brooke Army Medical Center in San Antonio, Texas on August 12th. Over the first five days, Jackson received 25 units of blood. To help the healing process, he was placed in a medically-induced coma. He remained in a coma for a month. Jackson lost both legs below the knee, and suffered severe burns on his arms, legs and back, and flash burns on his face and head. He spent nearly 50 days in the post burn unit.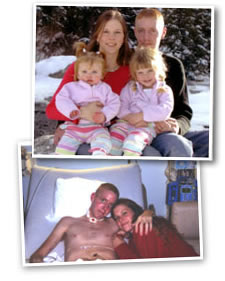 B.J. has made hundreds of television appearances and has been the keynote speaker at numerous events. The topics B.J. discusses include his personal road to recovery, overcoming odds, leadership, adapting to life's changes, and perseverance. B.J. and wife Abby also speak together about many post-combat obstacles faced by couples.
B.J. and Abby currently reside in Iowa with daughters Brilynn and Hailey, and sons Conner, Nolan, Parker, and Drake. Building Homes for Heroes will build the Jackson family a home in Orlando, Florida.
We would like to give special thanks to the some of the key members of the superb construction team that has been assembled, namely PCL Construction, Modern Plumbing Industries, Energy Air, and John Madison Landscape. Of course, none of this would be possible without your continuous generosity and support.